A few months ago, I was given the opportunity to start working as a Business Analyst in the User Experience (UX) team of the digital lab of the most important Canadian insurance company. One of my first challenges was to understand what I could bring to researchers, designers, strategists and other UX experts in the team – special thanks to my boss who saw it before hiring me 🙂 !
The first weeks gave me the impression of being a novice employee fresh out of school! My colleagues were talking about processes, techniques & deliverables that were so far from what I knew as a Business Analyst that I was wondering if I was really at my place in this team. On the other side, I had the feeling that it was all familiar to me. I decided to do some research on this new field of expertise.
This article is a summary of the conference I gave to the IIBA Montreal chapter monthly meeting in November 2019.
We're all users living experiences
In your everyday life, you're a user living an experience. Ever went to the grocery store?
Were you able to park close to the entrance? How was the ambiance inside the store? Did you find what you were looking for? Was the cashier polite? How long did you spend in the store? Answers to these questions will help understand how was your experience at the grocery store that day. Asking the same questions to the guy next in line at the cashier would probably give us a completely different (or similar?) story.
You're living experiences all the time. The first time I realized that was during our first trip to Walt Disney World in Orlando. After a few days, I surprised myself spending more time watching my daughters living an amazing experience. In my head, I was wondering what was required behind the scenes to allow this to happen.
Even visiting my blog is an experience (a good one, I hope!). And to measure how good is an experience and identify problems to fix & opportunities to capture, you absolutely need to interact with the users – a proxy is not enough!
What is User Experience anyway?
Before I started exploring the User Experience field, UX was more or less a synonym of UI & visual design in my mind. An expert in UX was here to select the right colours to apply to our solution! It wasn't long for me to find out that it wasn't the case.
Like BAs, UX experts can have many different hats – the visual design hat being only one of them! The Interaction Design Foundation defines UX like this (emphasis is mine):
User experience (UX) design is the process design teams use to create products that provide meaningful and relevant experiences to users. This involves the design of the entire process of acquiring and integrating the product, including aspects of branding, design, usability and function. […] It is a story that begins before the device is even in the user's hands.
As you can see, the User Experience as a discipline is concerned about much more than visual design. Let's take a look at the process & tools that most UX experts use, and see how they relate to Business Analysis.
The process: Design Thinking vs Software Development Lifecycle vs Agile
Ahhh processes! Business Analysts are usually in their element when we talk about business processes (and not only because business processes are everywhere). Thinking about solution development requires understanding and optimizing processes, and good BAs are good at that.
On the other side, business processes are not exclusive to BAs. Design Thinking is a process/mindset usually driving UX activities. This not so new process is not very complicated, and a quick Google search on this subject will give you thousands of relevant links. In a nutshell (because I know you don't want to leave my blog), here are the main steps.
Design Thinking in a nutshell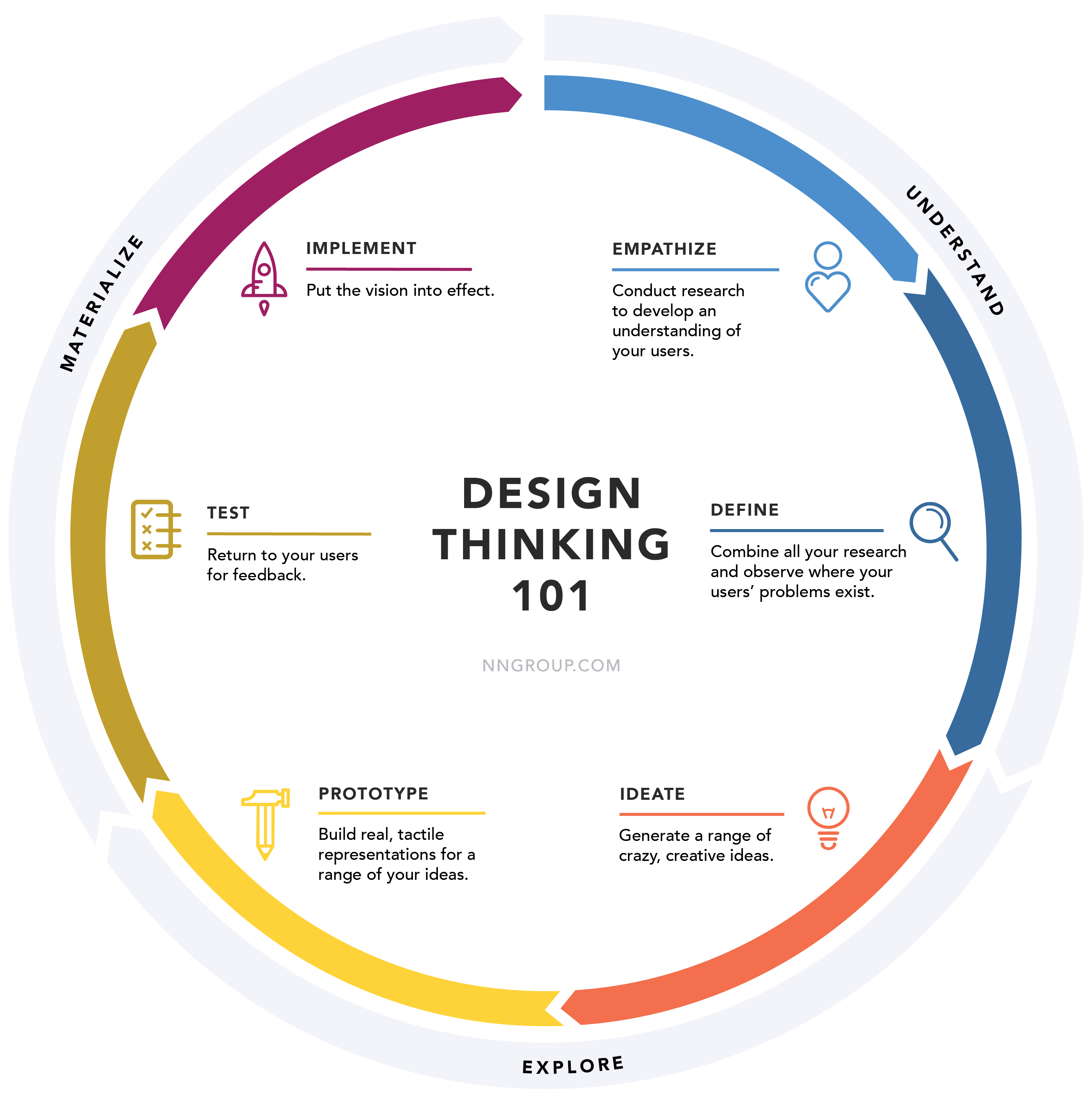 Firstly, you need to understand how users live a given situation and get a grasp on their context through research activities (Empathize, in the image above);
Then, from this understanding of users, you will be able to better define the problems they have or the opportunities to capture to make their life better;
After that, it's time to elaborate solutions to solve problems & address opportunities through various ideation techniques;
Most promising solutions can then be prototyped (from a low-fidelity paper-based prototype to a high-fidelity, fully functional one) and tested with real users to validate their potential;
We can then decide on the best implementation strategy to deliver real value.
In the Design Thinking cycle, you go through divergent thinking (ie generating ideas around a given topic) and convergent thinking (ie focusing on the most promising ideas to continue the work) in each of the phases (understand – explore – materialize). Also, Design Thinking has a focus towards relationships, behaviors and human interaction – ie users.
Doesn't that sound familiar to you? If you ever worked with the standard software development lifecycle (SDLC) we learn at school, you might see some similarities. Even the various Agile approaches are using similar steps. Have you been involved in Design Thinking without knowing it?
The toolbox: an exclusive collection?
Ahhh the famous toolbox! It seems that no matter what is your profession, you have access to an exclusive toolbox to help you succeed. As BAs, we have access to more than 50 different techniques in the latest BABoK! But are they as exclusive as we might think?
Have you ever conducted structured (or unstructured) interviews with customers? Stakeholders? Or maybe spent one day watching end-users in their natural habitat? UX experts also do this on a regular basis – they call it research.
Or maybe you mapped some processes? Relations between tools, systems & procedures? Studied pain points & challenges experienced by users? UX experts call this journey mapping, empathy mapping, blueprinting – and guess what? They also do this on a regular basis!
You probably benchmarked your organization to learn from your competitors. And surely you spent some time studying analytical data from your websites or internal systems. It won't be a surprise to you if I tell you that these techniques are also used by UX experts.
Does this make you feel like a UX expert?
Are Business Analysis & UX fighting for the same thing?
When I started my new job, one of my directors summarized very well what's behind UX. It revolves around 3 key concepts, which are strangely linked to some key business analysis core concepts and that are performed in an iterative way throughout a project lifecycle or product lifetime.
User Research
UX user research aims to understand the context of our users and stakeholders. Using different techniques such as interviews, shadowing, diary studies, or focus groups, experts will capture different needs & requirements to guide activities in the 2 other UX concepts.
A Business Analyst working to elicit needs & requirements with stakeholders (including users) will also need to understand the context to do a good job – making sense of needs, stakeholders, and context.
Service Design
Based on research insights, service design aims to identify & define opportunities in the user journey. Through collaborative work with users & stakeholders, experts will create & optimize experiences. Service design is more about the context in which products are sold & used by users, than about the product itself.
This sounds a lot what BAs would do in regards to organizational analysis, business process modelling & optimization, and task analysis – with special attention given to the end-users. In other words, it's all about making sense of change & needs, to elaborate on a solution that will deliver value.
Product Design
Based on the desired experience, UX experts will identify the requirements of the new solution & design products that will support the experience. Through co-creation, prototyping & user research, they will validate that the solution supports the experience & requirements.
While a BA wouldn't necessarily design the solution, he will identify & document solution & transition requirements, and make sure that they support higher business requirements. Once again, it's all about considering needs to elaborate on a solution that will deliver value.
What can you bring to UX as a Business Analyst
Even though they have a lot in common, Business Analysts are not UX experts. UX experts are focused on users & their context by definition. They work a lot on designing the solution based on best practices in accessibility, ergonomics & usability.
However, to be as efficient as possible, UX experts need to understand the reality of the organization & their stakeholders (including users, but not only users). This is where BAs can provide priceless insights to help them perform at their best, in the same way that we support product owners, developers & QA experts.
By learning more about UX techniques, Business Analysts can improve their knowledge of end users (one of their stakeholders) and better work with UX experts.
As a User Experience Analyst (my new title at work!), this is a completely new learning field that I plan to explore in the next few years! Stay tuned for my next articles about how BA & UX can work together to bring more value to organizations (and their customers & users!)
Do you like what you're reading?
Let's keep in touch! Subscribe to my newsletter and be notified when I publish something new (about once a month). You can unsubscribe at anytime!
By submitting this form, your information will be shared with MailChimp, which I use to manage my newsletter.